Hybrid workshop on Theory of Change
Bangladesh: We brought together health care providers from diverse backgrounds. The prresence of patients and caregivers made it more valuable. This hybrid workshop on Theory of Change (ToC) : Affordable Cardiac Rehabilitation: An outreach inter disciplinary strategic study (ACROSS) was very fruitful. Thanks to Professor Rakhshi and Professor Rod Taylor for organizing the ToC workshop.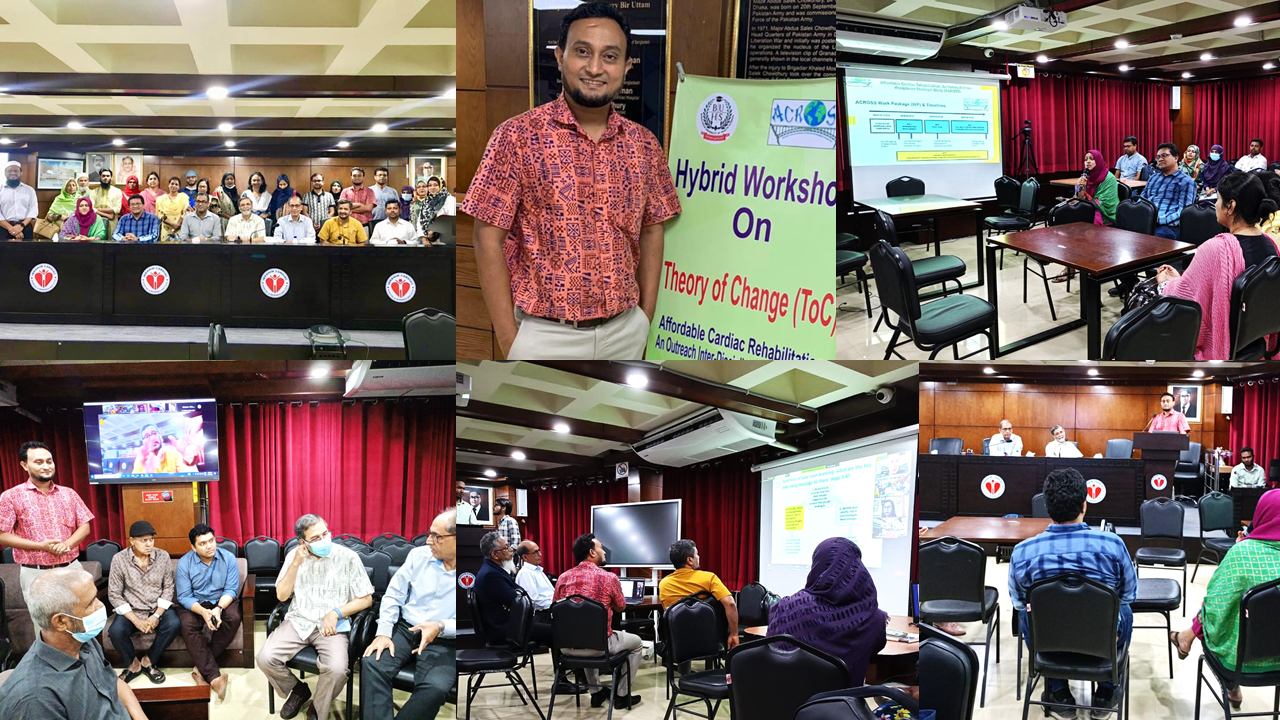 ---
Round table discussion with Pakistan Institute of Living and learning (PILL)and Director General of health, Pakistan
Pakistan Institute of Living and learning (PILL), in collaboration with University of Manchester and Mersey Care NHS Foundation Trust, organized a Mental Health Policy Round Table with Director General Health Sindh Mr. Irshad Memon on 31st May 2023. Joint lead Prof Imran Chaudhry presented the ACROSS project. Co-Applicant Prof. Nusrat Husain hosted the Chief Guest and more than 30 experts in mental health, cardiology, critical care medicine, public health, policy making, oncology, cardiology, psychology, rehabilitation science, implementation sciences, community medicine, health economics joined the round table.
The Director General Health extended his full support to the ACROSS joint lead across 5he province of Sindh (Population >50 million) and urged to not only polit and test its clinical and cost effectiveness but also find out possible ways for its implementation for which Directorate of Health services will extend its full support towards implementation.

---
Virtual seminar- Adaptation of health care interventions for people with long term conditions: A Scoping review of current practice
---
Virtual Conference of the World Heart Day 2022 organized by Pakistan institute of Living & Learning (https://www.pill.org.pk/)
---
Round Table Discussion and Stakeholder's meeting on Cardiac Rehabilitation & Heart failure
30 November 2019
A Round Table Discussion on sustainable development of Cardiac Rehabilitation in Bangladesh; was conducted by Ibrahim Cardiac Hospital & Research Institute (ICHRI) was held on 30th November 2019 at 10:00 AM at the Hotel Sundarban, 112 Sonargaon Road, Dhaka 1205, Bangladesh
---
Virtual conference and webinar information
Webinar on Cardiac Rehabilitation development in Bangladesh which is organized by Bangladesh Physiotherapy Association (BPA) in 2020:
Link: https://www.facebook.com/officialbpabd/videos/cardiac-rehabilitation-global-and-bangladesh-perspective/758922121560166/
---